I Planetari di Archimede e di Antikythera
Scienza e tecnologia dei primi calcolatori astronomici ad ingranaggi della storia
Archimedes Planetarium and of Antikythera
Science and technology of the first astronomical calculators to gears of the history
Alcuni momenti dell'intervista di Giovanni Pastore
alla televisione di Stato greca EPT
Some moments of Giovanni Pastore interview to the Greek television of State EPT
EPT S.A. - HELLENIC BROADCASTING CORPORATION - DIGITAL TELEVISION - Athens - Greece - http://www.ert.gr
L'intervista è stata trasmessa Sabato 15 Gennaio 2011 alle ore 15:00, sul canale digitale "PRISMA+" della EPT.
The interview was broadcast Saturday 15 January 2011 at 3:00 PM, on digital channel "PRISMA+" of the EPT.
Il programma è stato replicato Domenica 12 Febbraio 2012, alle ore 11:30 sul canale nazionale "NET" della EPT.
The program was replicated Sunday 12 February 2012 at 11:30 am, on the national channel "NET" of the EPT.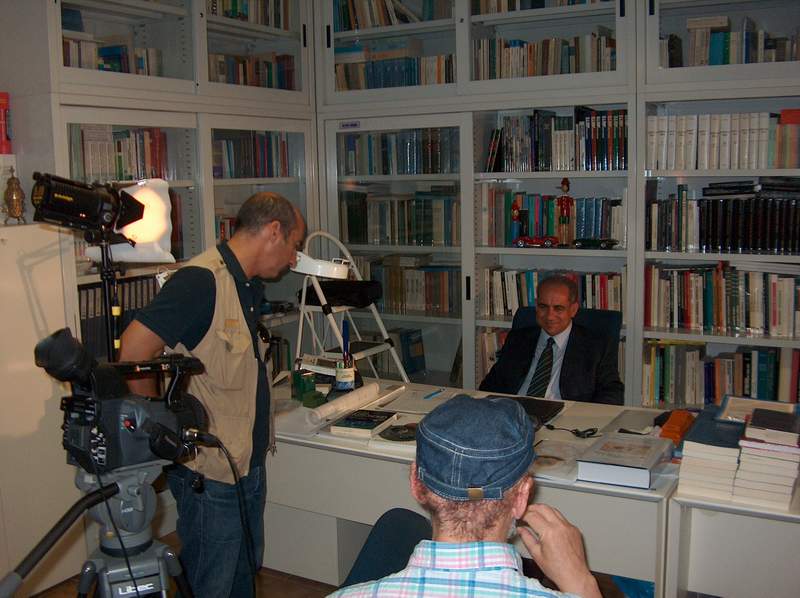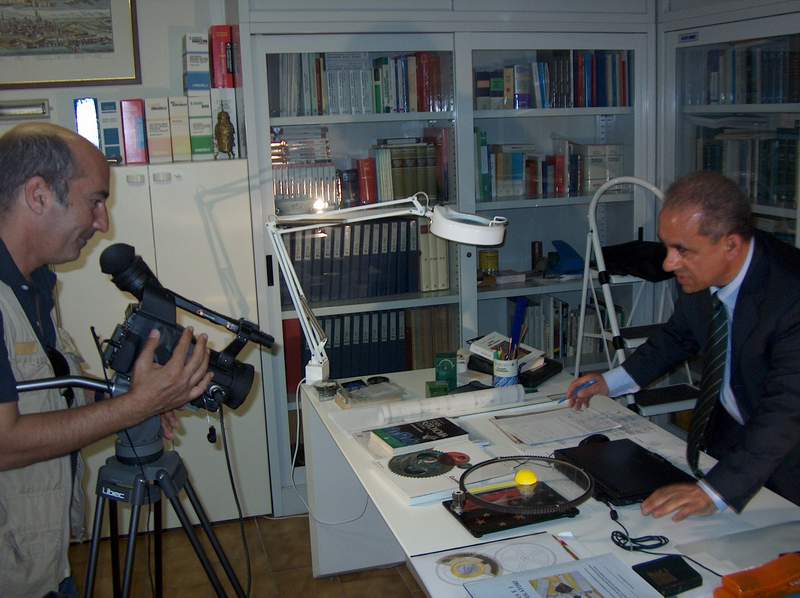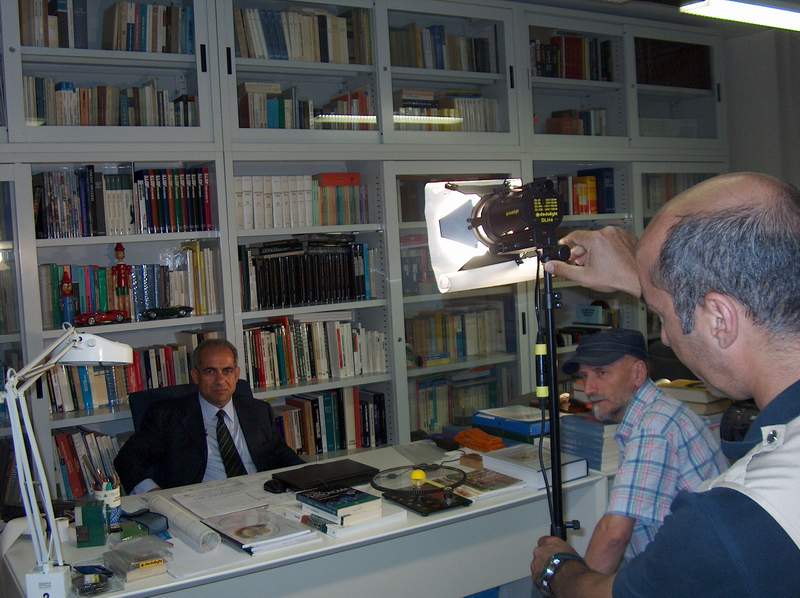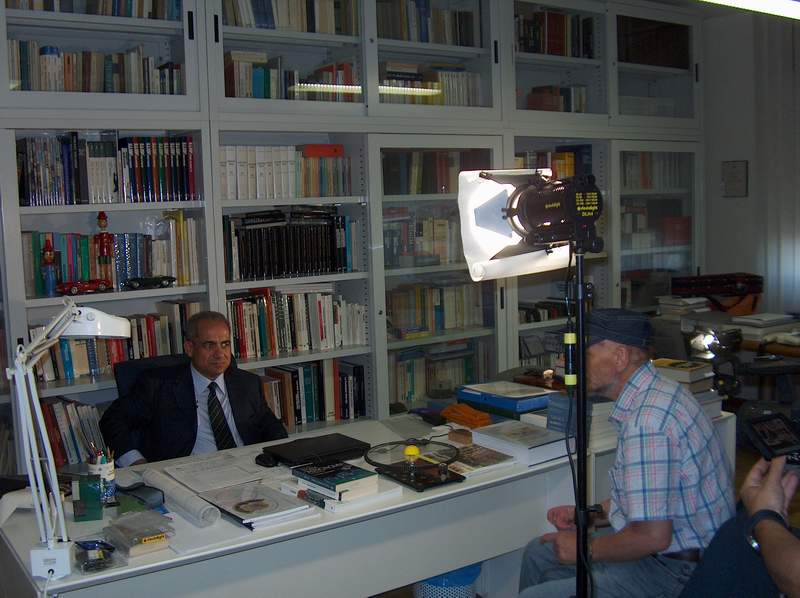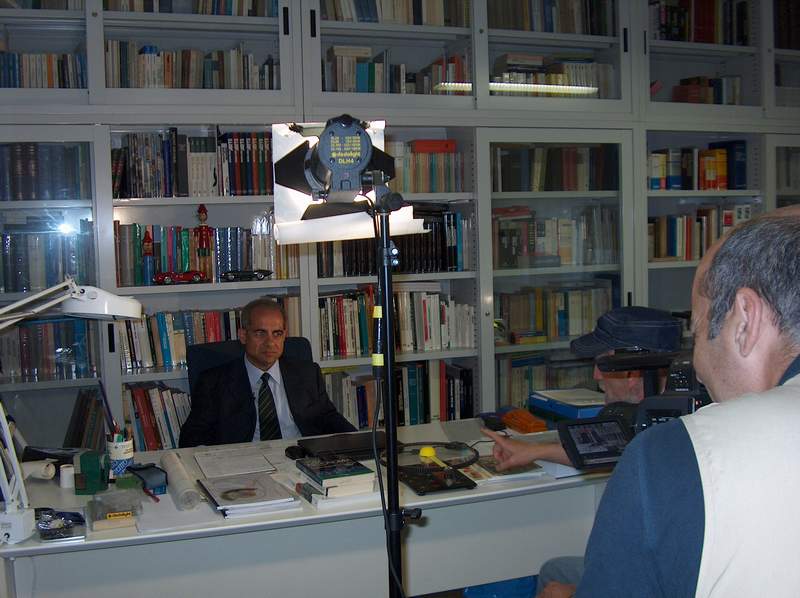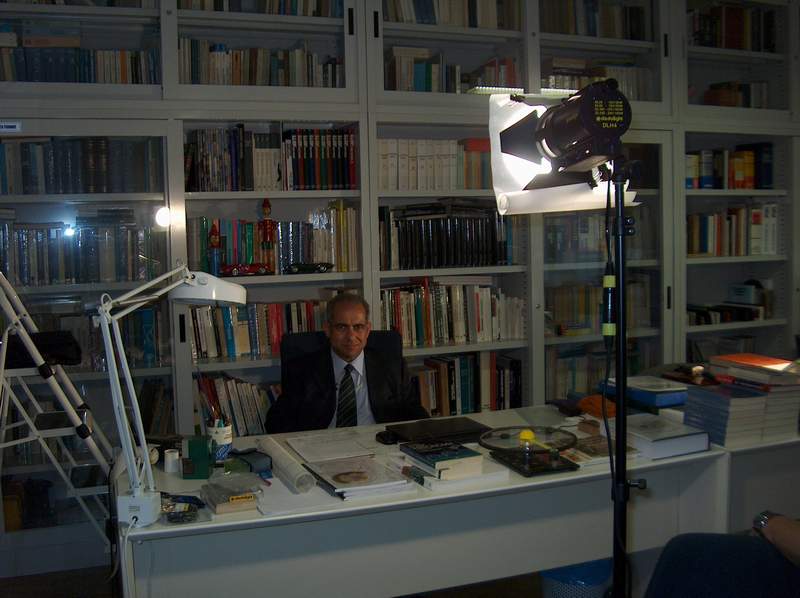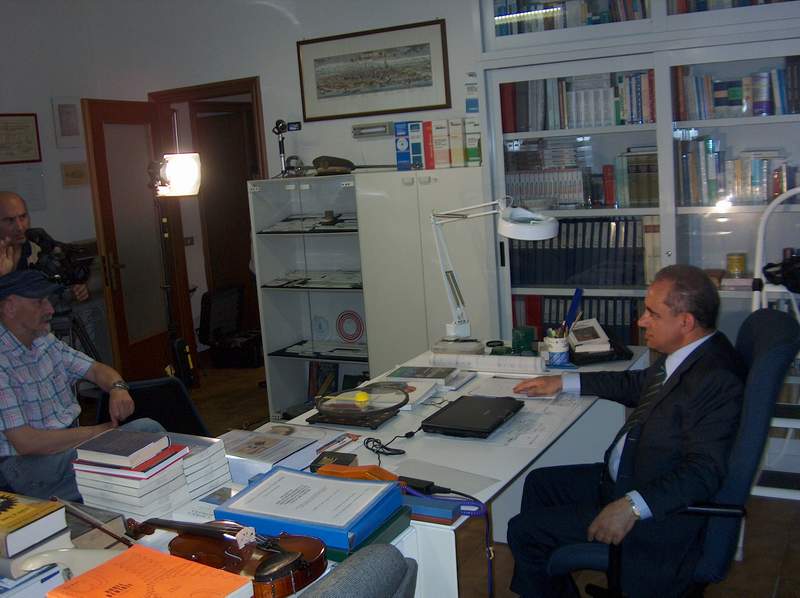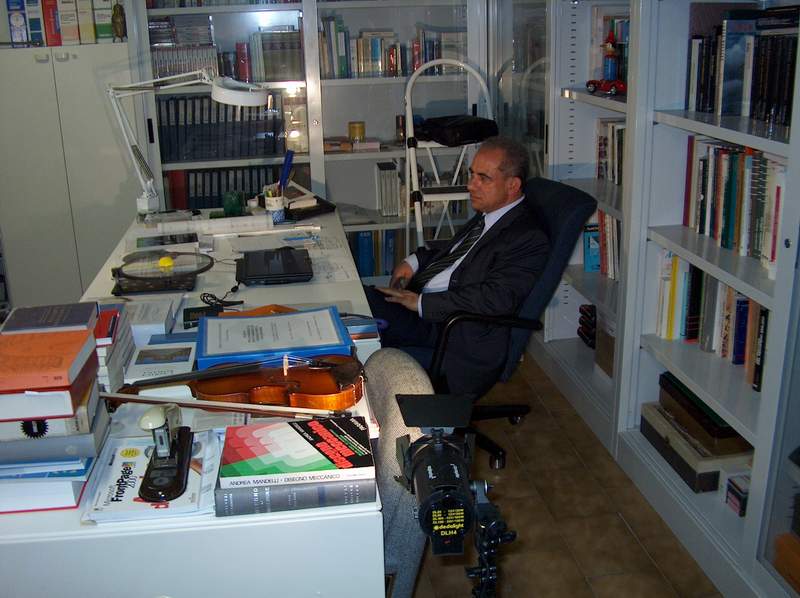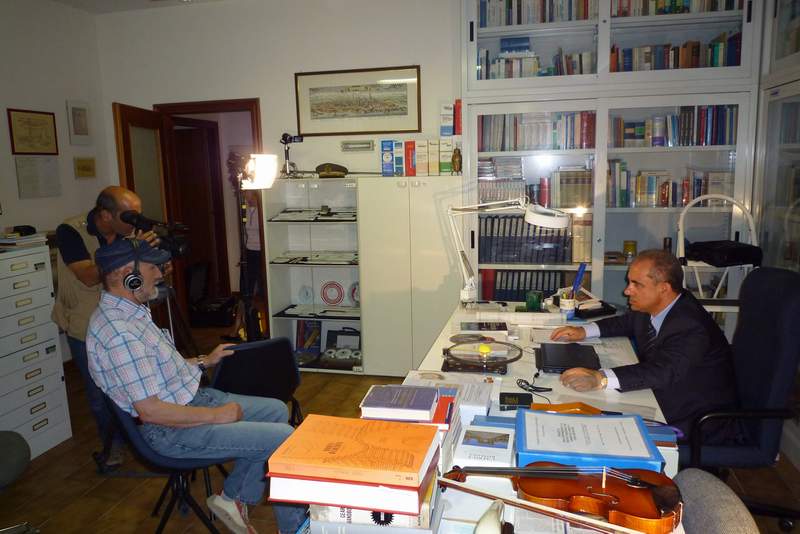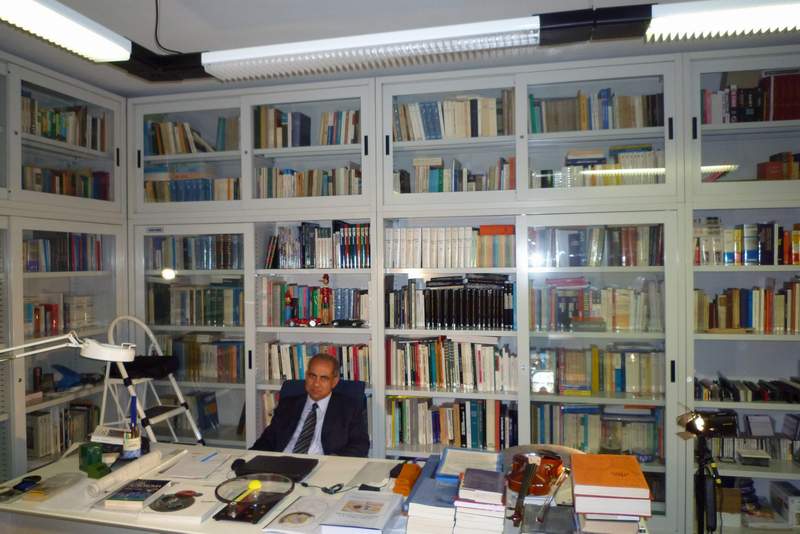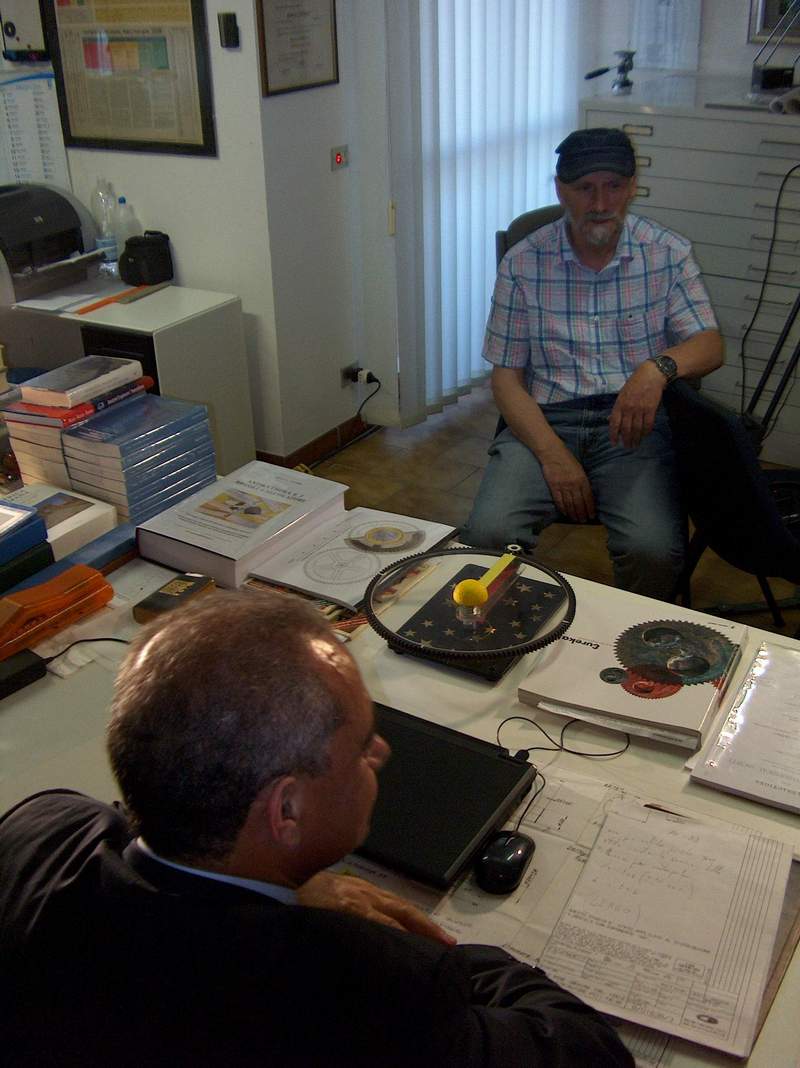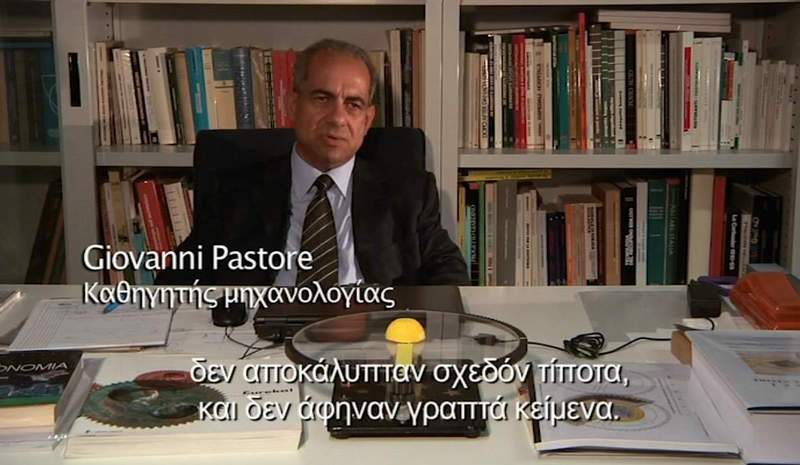 L'intervista televisiva è stata realizzata il 09 giugno 2009 nello studio di Ingegneria di Giovanni Pastore a Policoro (Matera) - Italia
The television interview has been realized on 9th June 2009 in the office of Engineering of Giovanni Pastore in Policoro (Matera) - Italy
Regia (Director): Κώστας Βάκκας, Αθήνα
L'autore si riserva di rendere disponibile il filmato on-line in queste pagine web
The author proposes to make available on-line the film in these web pages
Ulteriori dettagli:
Il Planetario di Archimede ritrovato e la Brocchetta Pitagorica di Ripacandida
il LUCANO Magazine - Anno IX, N. 5 - Maggio 2011 - by Anna Mollica (htm)




Il mistero dei cieli e di Pitagora nella Brocchetta di Ripacandida
LA GAZZETTA DEL MEZZOGIORNO - 16.04.2011 - by Lorenza Colicigno (htm)




Il grande valore scientifico del reperto, che riscrive la Storia della scienza:
Svelato il mistero di Archimede
L'UNIONE SARDA - 02.10.2009 - by Giovanni Pastore (htm)




Articolo sintetico ma esplicativo dello studio definitivo e dell'attribuzione ad Archimede:
A Olbia il genio di Archimede
L'UNIONE SARDA - 20.03.2009 - by Giovanni Pastore (htm)




La scoperta dei primi risultati scientifici:
Il pensiero scientifico dei Greci nascosto in un ingranaggio
IL SOLE 24 ORE - Scientific supplement "NOVA 24" - Thursday 16.10.2008 - by Giovanni Pastore (htm)




Articoli direttamente correlati:
Il genio di Archimede snobbato in Sardegna:
L'UNIONE SARDA - 10.09.2009 - by Giovanni Pastore (htm)




DAVLOS 319, December 2008 - ∆ΑΥΛΟΣ 319, Δεκέμβριος 2008 - by Giovanni Pastore - Τζιοβάννι Παστόρε (pdf)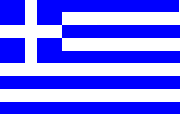 DAVLOS 314, June 2008 - ∆ΑΥΛΟΣ 314, 'Iούνιος 2008 - by Γιάννης Λάζαρης (pdf)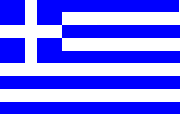 Bocconi University - Milan - Italy

Altri articoli correlati:
Articolo di maggiore dettaglio ma non ancora disponibile on-line:
MATHESIS - DIALOGO TRA SAPERI, Anno VI - n. 12 - Giugno 2009 - by Giovanni Pastore (htm)




MATHESIS - DIALOGO TRA SAPERI, Anno V - n. 11 - Dicembre 2008 - by Gian Nicola Cabizza (htm)


L'UNIONE SARDA - Saturday 13.12.2008 - by Claudio Chisu (htm)

L'UNIONE SARDA - Friday 03.10.2008 - by Giovanni Pastore (htm)


L'UNIONE SARDA - Scientific supplement - 31.05.2008 - by Sabrina Schiesaro (jpg)

L'UNIONE SARDA - Scientific supplement - 05.04.2008 (jpg)

L'UNIONE SARDA - Scientific supplement - 22.03.2008 - by Giovanni Pastore (jpg)

LA NUOVA BASILICATA - 22.03.2008 - by Eleonora Cesareo (jpg)

L'UNIONE SARDA - Scientific supplement - 24.11.2007 - by Gian Nicola Cabizza (jpg)

LA NUOVA SARDEGNA - 15.11.2007 - (jpg)

Prof. Ing. GIOVANNI PASTORE
Via Monte Bianco, 14
I-75025 POLICORO (Matera)
ITALY
ph. +39 0835 980530


E-MAIL: info@giovannipastore.it
Book by Giovanni Pastore


THE RECOVERED ARCHIMEDES PLANETARIUM
Science, technology, history, literature and archaeology, certainty and conjecture on the most ancient and extraordinary astronomical calculating device. With two other scientific studies: on the Antikythera Planetarium and the Pitcher of Ripacandida.
With the appendix:
Pythagoras in the contemporary world. Influences of Pythagorean scientific philosophy in the modern and contemporary world.
Summary in:

English -

Italiano -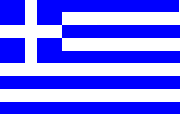 Ελληνικά -

日本語 -

Español -

Français -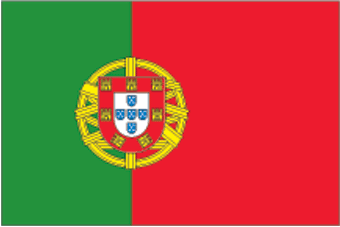 Português -

Deutsch -
Tiếng Việt
(The book is written in English, ISBN 9788890471544)
Libro di Giovanni Pastore


IL PLANETARIO DI ARCHIMEDE RITROVATO
Scienza, tecnologia, storia, letteratura e archeologia, certezze e congetture sul più antico e straordinario calcolatore astronomico
Con altri due studi scientifici:
sul Planetario di Antikythera e sulla Brocchetta di Ripacandida
Summary in:

Italiano -

English -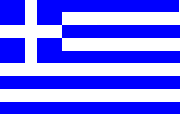 Ελληνικά -

日本語 -

Español -

Français -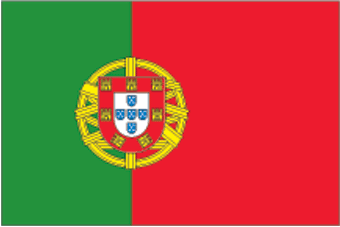 Português -

Deutsch -
Tiếng Việt
(Il libro è scritto in Italiano, ISBN 9788890471520)
IL MECCANISMO DI ANTIKYTHERA
THE ANTIKYTHERA MECHANISM


Italian and English version

Alla pagina web del libro di Giovanni Pastore
ANTIKYTHERA E I REGOLI CALCOLATORI
Tecnologia e scienza del calcolatore astronomico dei Greci
Istruzioni per l'uso dei regoli calcolatori logaritmici matematici, cemento armato e speciali, con numerosi esempi di calcolo
Alla pagina web del libro di Giovanni Pastore
GLI INFORTUNI DOMESTICI
Come prevenirli
(to the english version) (à la version française) (Zur Deutsche Version)
(a la version española) (Versão em Português - Brasileiro) (In versiunea romaneasca)
(日本語版へ - to the japanese version)
(中文版 - to the chinese version)
Copyright © 2001-2019 by Giovanni Pastore